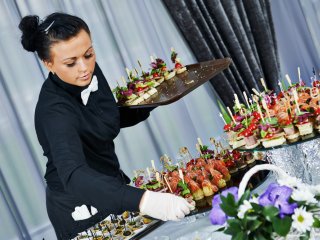 Course Type:
Instructor Led - 4 Weeks Long
Description
Objectives
Outline
Materials
Approvals
System Requirements
Do you love to entertain and host parties? Do you love to cook and create exciting menus?  Now you can realize your dream of working from home doing something you enjoy. Catering is considered to be the fastest growing segment of the food service industry in the United States! Learn the steps necessary for setting up and running your own home-based catering business. From writing a successful business plan to marketing your new business and tips for deciding on a menu- this course has it all.
* You have 4 weeks to complete this course from date of your enrollment.
** Course Subject to Change.
After completing this course, you should be able to:
Identify the pros and cons of starting a catering business
List steps for creating a business plan and how to structure your company
Recognize marketing techniques and how to promote your catering business
Recall time management tips and event planning strategies 
Start Your Own Catering Business Module 1
So You Think You Want to Be a Caterer?
In module one, we will look at the pros and cons of starting your own business.  Leaving the security of a job to start your own business can be scary, but in this module we will look at how working out of your home can be rewarding, especially since you are working in a career of your choice.  In module one we will also take a look at the different business structures available and which will best suit your needs. 
Starting as a Personal Chef
Working Out of Your Home
Outfitting Your Kitchen
How to Structure Your Business Plan
Writing a Business Plan
Start Your Own Catering Business Module 2
Proposals, Legal Advice, and Marketing
Before starting your own business, there are several must-do items to take care of. Module two discusses how an attorney can help your business succeed. You'll also be introduced to how to price your first menus, how to bid and write a successful proposal, and techniques for sales and marketing.
Why You Need a Good Attorney
Insurance
How to Price Your First Menus
The Art of Bidding and Writing a Proposal
Sales and Marketing 
Start Your Own Catering Business Module 3
Selling Your Business and Crunching the Numbers
Get ready to define your niche!  In module three students will look at who their clients will be and what they need to do to promote their business.  Module three will point students towards good habits that will help their business succeed.  You'll learn how to use photos and recipes to effectively sell your business, as well as invoicing, accounting, and making good use of your accountant.
Photos
Recipes
Accounting Systems
Invoicing
The Menu and Start-Up
Start Your Own Catering Company Module 4
Catering Menus and Pulling it Off with Ease
Module four will go over the final catering event and tips for organizing your time and setting up your party.  Students will review sample scheduling charts and time tables.  After the event caterers should identify their strengths and weaknesses with report cards from staff and clients.  Module four will discuss how to use this information to make improvements in their company. 
Organizing Your Time and the Party Setup
Report Cards from Staff and Clients
Solving Problems
Catering Menus
Quantity Recipes
 
Ed4Career is committed to being both environmentally conscious and making it easier for you to study! We're making your education mobile! All of our textbooks are now provided as eTextbooks. You can access them on your laptop, tablet, or mobile device and can study anytime, anywhere.
The move away from physical books to eTextbooks means you get the latest, most up-to-date version available. This also makes your training more accessible, so you can study anywhere you have your phone or tablet. The best part is that all materials are included in your training cost so there are NO extra fees for books!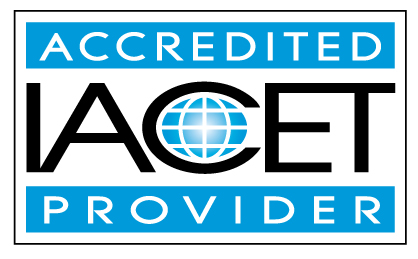 Ed4Career has been approved as an Accredited Provider by the International Association for Continuing Education and Training (IACET). In obtaining this accreditation, Ed4Career has demonstrated that it complies with the ANSI/IACET Standard which is recognized internationally as a standard of good practice. As a result of the Accredited Provider status, Ed4Career is authorized to offer IACET CEUs for courses and programs that qualify under the ANSI/IACET Standard.
The Continuing Education Unit (CEU) was created by IACET as a measurement of continuing education. One (1) IACET CEU is equal to ten (10) contact hours of participation in an organized continuing education experience under responsible sponsorship, capable direction, and qualified instruction. Under IACET's care, the IACET CEU has evolved from a quantitative measure to a hallmark of quality training and instruction. For more information on IACET, visit www.iacet.org.
Internet Connection
Broadband or High-Speed - DSL, Cable, and Wireless Connections
*Dial-Up internet connections will result in a diminished online experience. Classroom pages may load slowly and viewing large audio and video files may not be possible.
Hardware Requirements
Processor - 2GHz Processor or Higher
Memory - 1 GB RAM Minimum Recommended
PC Software Requirements
Operating Systems - Windows 7 or higher
Microsoft Office 2013 or higher. Also, you could use a general Word Processing application to save and open Microsoft Office formats (.doc, .docx, .xls, .xlsx, .ppt, .pptx)
Internet Browsers - Google Chrome is highly recommended


Cookies MUST be enabled
Pop-ups MUST be allowed (Pop-up Blocker disabled)

The Kindle Reader App or VitalSource Bookshelf App are needed for many of our courses (No special equipment needed. This can be downloaded for FREE onto your computer.)
PowerPoint Viewer (if you do not have PowerPoint)
QuickTime, Windows Media Player &/or Real Player
MAC Software Requirements
Operating Systems - Mac OS x 10 or higher with Windows
Mac office programs or a Word Processing application to save and open Microsoft Office formats (.doc, .docx, .xls, .xlsx, .ppt, .pptx)
Internet Browsers- Google Chrome is highly recommended


Cookies MUST be enabled
Pop-ups MUST be allowed (Pop-up Blocker disabled)

The Kindle Reader App or VitalSource Bookshelf App are needed for many of our courses (No special equipment needed. This can be downloaded for FREE onto your computer.)
PowerPoint Viewer (if you do not have PowerPoint)
Adobe PDF Reader
Apple QuickTime Media Player